Sep 19, 2012
Painting Videos / DVDs
Here is what I got for you:
10 DVDs 10 Paintings + Online Versions
10 Artist Individual Critiques and Q&A by Master Painter and Teacher Daniel Edmondson
10 Pictures of the still lifes that you will be painting (delivered via email ready to print or have printed at your local drugstore)
Handouts of awesome material that Daniel Edmondson covers that he wants you to have hard copies of
Bonus Videos on how to price and sell your paintings online through eBay or a Blog
Daniel Edmondson leads you step by step showing you just what colors to mix, with what brush, from background to each element in the painting and why you do what you do for the best beautiful professional artist results
You can even Start today with the online versions of the DVDs
Watch this free tip on how light and color behaves I guarantee you might learn something
One of My Previous "Tips of the Week"
Subscribe to "Free Weekly Tips"



we will never share your e-mail address with anyone (these usually come in the format of videos, sometimes email text or audio files)
These are the paintings you will get to paint: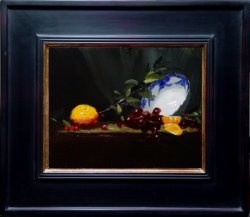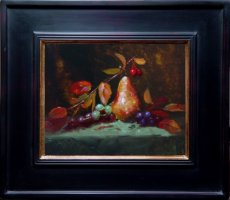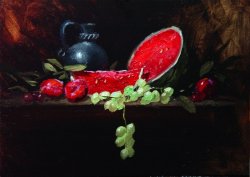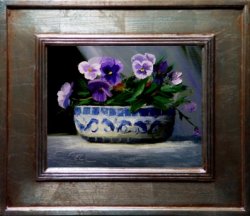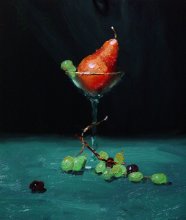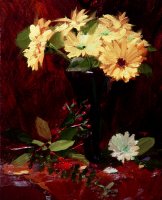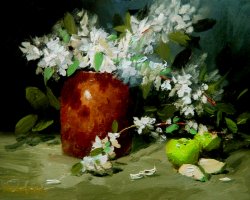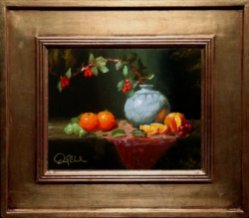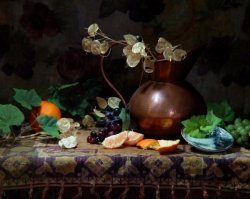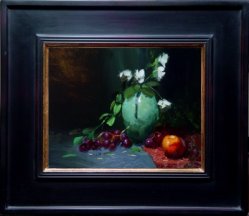 Prefer Landscapes? Click here for:
Actual Online Version and DVD Version Larger and Higher Quality
note: all of these comments were not requested or any compensation given for these comments received from artist emails…WOW ! (of course your results my vary)
Here's what it will do for you:
· This is a complete package for you to really take your art to the next level and the one after that and become a selling artist with everything included and nothing left out
· Daniel Edmondson will fill the gaps in your knowledge in three easy steps
o Learn how to paint each aspect of the painting by being able to see step by step demonstrations brush stroke by brush stroke from beginning to end
o As a limited time RARE BONUS, email in your painting for a private, personal, video critique by the artist himself, Daniel Edmondson. He will spot any problems you have that the video missed and teach you step by step, one on one
o Sell your masterpieces and make money from your own Art! With a sale from just one painting you can have this 10 DVD Set paid for plus more
· You can have better paintings and sales
· You will enjoy the feeling of having Created Something Extraordinary
· Feel that joy of seeing Red Sold Dots next to your paintings in galleries
Our friend Mary is finally doing something for herself. She spent her whole life working, taking care of children and everyone else while putting herself second. Now it's her time to do something that she is proud of for the rest of her life that's all her.
OR
like our friend Lorrie who last weekend invited all of her friends to her first gallery showing for a glass of wine and to see her new paintings and spent the rest of the evening discussing art with other artists.
Here's what to Do Next:
Get your classes and DVDs
The classes are less than 18 dollars each with absolutely gorgeous still lifes that have a proven track record of being highly successful and very easy to sell. The still life pictures themselves are worth the cost of the class.
Join the hundreds other artists who have studied with Master Teacher and Artist Daniel Edmondson & Invest in your future as an Artist
Not interested in still life? No problem. Check out Master Daniel Edmondson's Landscape Painting DVDs: Landscape Painting DVDs
Bonus: These lessons are fun and you will enjoy yourself while getting really good!
Master Artist Daniel Edmondson Discusses the 10 Week Program:
Payment Plan
Available
About Master Artist Daniel Edmondson
"You must look beneath the surface of the varnish and layers of paint into the intricate creations of Daniel Edmondson. Whether it be the fluidity of a bouquet of delicate flowers transitioning on to a contrasting weather beaten board in the classic chiaroscuro style that echoes of Rembrandt or the beauty of a ballerina who seems melancholic yet, in the next minute, seems to smile much like the soft Spumato style of Leonardo's Mona Lisa." This is the best part to be able to study with an artist of this caliber is rare indeed.
Here is what you will get:
66% off for a limited time
10 DVD 10 Painting course and access to Online versions Too! $250.00 if purchased the 10 DVDs separately
Bonus #1: 10 – Artist individual critiques and Q&A by Daniel Edmondson $250.00
Bonus #2: Videos on how to price and sell your paintings online through eBay or a Blog and this is where Daniel Edmondson reveals his secrets on how he sold over 200 paintings online in less than a year $77
For a total of $528.50
66% Off for a limited time only and Save $349.50
100% Satisfaction Guarantee*
offer expires Don't Miss it
that's less than $18 per DVD
only 2 payments of $97
(includes shipping to US and Canada)*
you will only be charged one payment of $97 now and one in 1 month.

ADD TO CART
OR
save $2.05
with Single payment option $179
plus S/H of $12.95
(US and Canada)

ADD TO CART
*NO HASSLE 30 DAY GUARANTEE: Watch the first lesson and if not happy with the information provided just return the DVD within 30 days & the remaining unopened 9 DVD lessons for a full refund including shipping charges.international Shipping: there is an extra $10 US fee for overseas shipping: overseas orders click here
if you want to send a check or want a payment plan just drop us an email.
CONTACT:
Edmondson Studio 1431 Sioux Blvd
Fort Collins, CO 80526
attn: Sales: Jerylynn Edmondson
(970) 980-3123 email: Edmondson Studio
5 reasons you should get this:
1. Get the information first hand from the teacher who teaches the teachers.
2. If you knew what you needed to fix in your painting you would have fixed it already… even if you only improved your painting by 25% what is that worth over your lifetime in satisfaction and sales
3. You need to be the student not the student and your own teacher it is hard enough to be the student. (you don't repair your own car, fix your plumbing, roof your house, be your own Lawyer, accountant …..get the best to teach you painting.
4. Get unstuck in your art … are you stuck and don't even know it? Get a portfolio review from the master and get back on track painting the style you really want.
5. GET BETTER and Start Selling more paintings or at the least get the respect you really want as an artist. Bonus: These lessons are fun and you will enjoy yourself while getting really good!